See Why You Should Choose LoadPilot
Powerful Transportation Management Software (TMS)
Running a freight or logistics business can be tough. However, if you have the right tools, it's much easier to succeed. Freight broker software, also known as transportation management software (TMS), is a tool that helps freight brokers manage their business operations. It enables them to track shipments and create and send critical documents (like quotes, invoices, BOLs, and rate confirmations). It even helps manage carriers and builds customer relationships.
Designed by Brokers for Brokers
As a new freight broker, it can be overwhelming to navigate the various software options on the market. However, LoadPilot stands out as the best choice for new freight brokers.

One of the key features of LoadPilot is its user-friendly interface. The software is designed with new freight brokers in mind, making it simple to navigate and understand. It also offers a wide range of tools and features that are essential for managing a successful freight brokerage, including carrier management, load tracking, and invoicing.

We make it easy to up and running in no time and take control of your freight business. Stop wasting valuable time with outdated software or manual paperwork. Get organized, save time, and grow your business with LoadPilot freight broker software.
Loaded With Powerful Features
Another advantage of LoadPilot is its cost-effectiveness. As a new business, it's important to control expenses and LoadPilot offers an affordable solution without sacrificing functionality. Additionally, it has a scalable pricing structure that can grow with your business.
LoadPilot also offers excellent customer support, which is crucial for new freight brokers who may need extra guidance. The customer support team is available to assist with any questions or issues that may arise.
Integrates with Your Favorite Load Boards
LoadPilot even ties into your favorite load boards so you can quickly post your loads. This makes it very easy to find carriers and get your loads booked. This is just one-way LoadPilot makes it simple to organize and run your entire business from the comfort of your home office. Here are some of the load boards we're currently working with.
   123 Loadboard.com
   Truckstop
   Direct Freight
   Expedite Loads
   Truckinfo
   Vessage.com
See how easy and effective it is to use LoadPilot. Check out this video and see why so many freight brokers, freight agents, and other transportation professionals trust us with their business. 

The Tools You Need to Run Your Freight Business
LoadPilot was built by brokers for brokers. It's a great choice for new freight brokers because it offers a user-friendly interface, essential tools and features, cost-effectiveness, and excellent customer support. It is a complete software solution that can help new freight brokers manage their operations and grow their businesses.
With just a click, rate confirmations, invoices, BOL's and more can be easily sent out via fax or email. Our revolutionary program offers users a fast, convenient, and efficient solution to quote, book, invoice, and manage their business entirely online! With just a click of a button, you'll gain access to all your data in an instant – no more time wasted on tedious manual paperwork. Best of all, you can use LoadPilot freight broker software from anywhere that has a good internet connection. Try it today for yourself and join thousands of others who have freed up precious hours from their day thanks to our innovative system!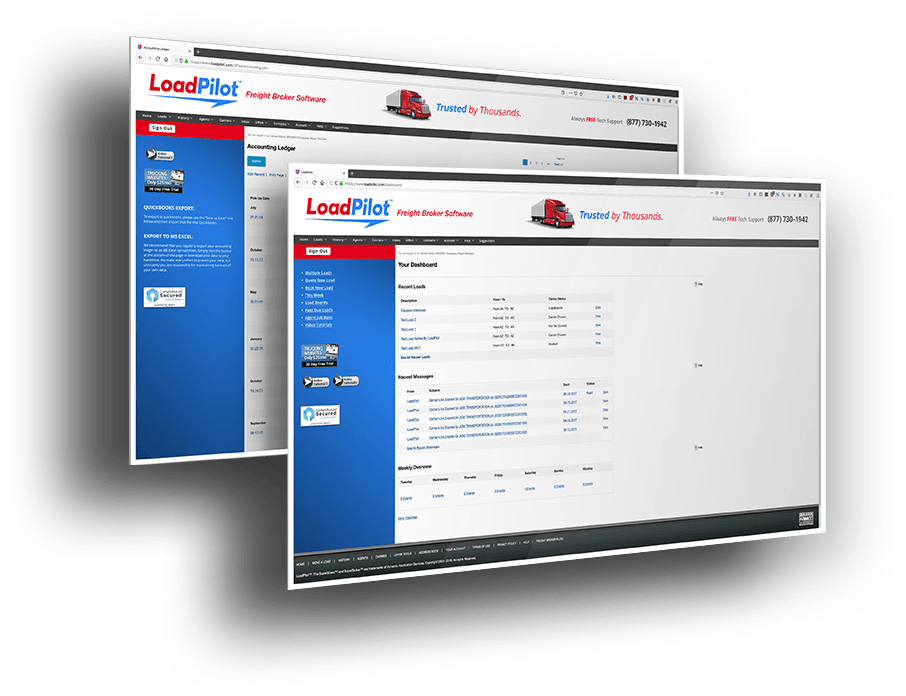 Try LoadPilot Freight Broker Software!
Are you ready to unlock your business's true potential? Then try LoadPilot Freight Broker Software completely free for 30 days. It is simple, intuitive, and accessible from any device – computer, smartphone, tablet, or mobile – making it easier than ever to take advantage of its benefits. Freight brokers, agents, and other logistics professionals can benefit immensely from our comprehensive freight brokering system (TMS), making it the ideal solution. Now you can try LoadPilot risk-free for 30 days. Just click the button below to get started and see how much time LoadPilot can save you.