Move More Loads in Less Time
Easily quote, book, organize, invoice and manage all of your loads – all online.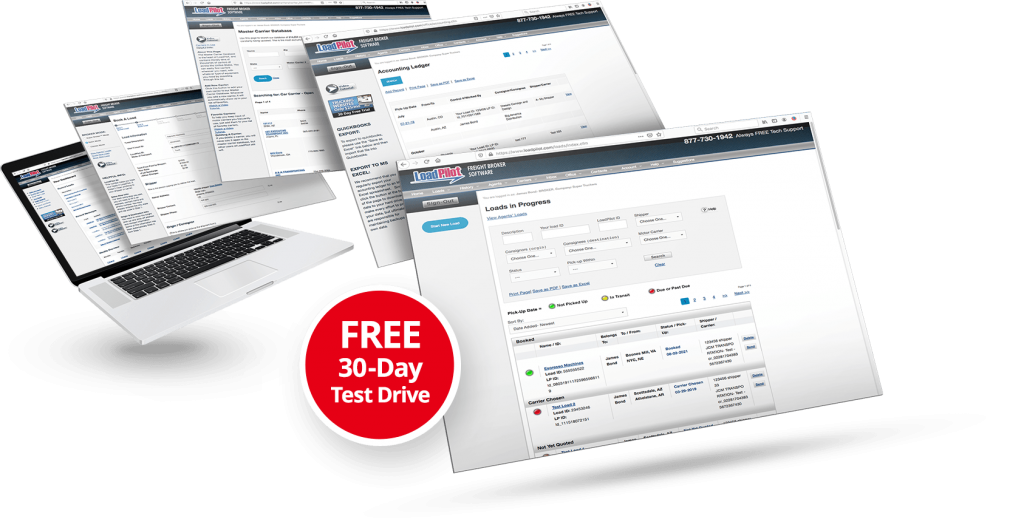 Designed by brokers for brokers.
LoadPilot® is an Online Freight Broker Business Management System that allows you to easily quote, book, organize, invoice, manage your loads and your business. Designed by brokers for brokers, LoadPilot® is the easiest to learn and use freight brokering management software available for transportation professionals. Our users tell us the features they want, and we listen! It was the very first online freight brokering software created and has been updated and upgraded as needs and technologies have advanced.

LoadPilot® is a system that you subscribe to, not software that you buy. That means there's nothing to install, no costly updates to buy and you can work from anywhere in the world. It also means that if your computer is lost, stolen or crashes, your data is safe and available instantly – exactly as you left it.
Learn why more and more brokers are moving more loads in less time by using LoadPilot® in this quick Intro Video

LoadPilot® works from any computer, smartphone, tablet or mobile device.
LoadPilot® was designed with you, the transportation professional in mind. Tested by industry experts, LoadPilot® has everything you need, and nothing you don't.
Unlike most other brokering programs, LoadPilot® guides you step-by-step while you work, making it easy to understand and simple to use. You will get more done in less time.
Quote, book and manage all of your loads online.
Walks you through each step of the new load process, automatically checking your work for errors as you go.
Quickly find the right carrier in the right location by quickly search our Master Carrier Database™.
Automatically generate & send emails, invoices, carrier packets and other important documents to your contacts.
Track all past loads with the load history section, viewing important details at each step of the process.
Super Broker Mode™ can be used by experienced brokers and agents to move loads faster.
The heart of LoadPilot® is our dynamic Master Carrier Database™.
Quickly and easily find just the right carrier by searching over 160,000 carriers from across the country.
The list is continually updated with new carriers, while weeding out obsolete entries through our special screening process.
Preferred carriers can be added to your Favorite Carriers List.
At completion, all loads are automatically added into your accounting ledger.
Accounting ledger stores the financial info for all loads. It is easily exported to an Excel® Spreadsheet & emailed to your accountant or uploaded to QuickBooks® or other popular third-party accounting systems.
Track all your upcoming loads, events and other important dates.
Pick-up and delivery dates for all new loads are automatically added to your calendar.
Full featured internal messaging system to help brokers and agents communicate with each another.
Brokers can choose to receive automatic messages to stay up-to-date on agent activity.
Track of all your business and personal contacts, easily and conveniently.
LoadPilot® uses your contacts to auto-fill information on new loads, saving time and preventing costly errors.
Add agents to broker accounts. Each agent account has its own login and password, so agents can work on their own loads. Other agents can't see their information, but you (the broker) can.
Log into your agents' accounts to view their activity, or make changes to their loads.
Choose to receive automatic messages to be notified of specific agent activities.
All agent loads show up in the broker accounting ledger.
Easily add, remove or deactivate agents at any time.
LoadPilot® makes use of the same type of encryption used by banks, including secure databases, 128-Bit encryption, secure socket layer protocol and much more.
Our systems are backed up daily to ensure that all of your data is kept safe and secure.
Our redundant servers are kept in a highly secure datacenter with 24-hour security, redundant fiber optic connections, and back-up power generators. You can rest assured that when you use LoadPilot®, your data is protected.

Just some of the many reasons why LoadPilot® is the best online freight broker management system available!
What you need run your brokerage without all the confusing, unnecessary features aspects found in so many other programs.
Provides an overview of weekly and daily activities at a glance, such as open loads, new messages, and your weekly schedule.
Keeps all of your business and personal contacts in one place that is used by LoadPilot® to auto-populate fields, send emails, carrier packets, etc.
Manage each of your agent's commission structure (if that's how they are getting paid.) Also helps them know how much they are making for each load they move.
Automatically adds your upcoming loads, pick-up and delivery dates, various events and other important dates to your calendar, so you don't forget to add these things yourself.
Makes managing your billing easy.
Avoid the time-consuming task of having to retype fields over and over again. LoadPilot's will fill in all your shipper, broker,
consignor
and consignee info from your private address book.
Helps to ensure your program is available for you at all times, even during most natural disasters.
LoadPilot is built to make your job easier. You email or fax all your documents right from LoadPilot. Send
rate confirmations
, invoices, BOLs and invoices.
Pre-designed carrier packets get you up and running right away.
Download directly from the accounting section and email to your accountant or upload to most third-party accounting systems.
This format allows easy use with third-party accounting programs, if desired.
Say goodbye to wasted time trying to find just about anything in your system.
E-Fax Integration (Optional)
Integrated with the popular E-Fax program. Send and receive faxed forms from within the system. There is a small monthly fee from E-Fax if you want to include this in your membership.
Allows you to easily and quickly send things like carrier packets, invoices, messages and other items right from the system.
Load-Error Prevention System
Walks you through each step of the new load process, automatically checking your work for errors as you go.
There is never a charge for LoadPilot® tech-support.
Automated messages let you know when one of your carrier's insurances has expired.
Communicate internally with your team and receive automated messages to stay informed of their activity.
Capabilities let you identify the country for shipments, carriers, origins, destinations, etc.
Track current and past loads and important details at each step.
Macropoint Tracking (Optional)
Integrated with the popular MacroPoint truck/fleet tracking technology. There is a third-party cost to use this feature.
Need to find a carrier? Our easy to use database of tens of thousands of carriers makes it easy, right from the program.
Move multiple loads at once, making you a freight brokering wizard!
Multi-Modal Transportation
Categories of options such as air, rail and
multi-modal
. Everything you'll need.
Makes running your business easier and faster.
Keep track of your personal activities as well as business.
Allows you to keep those carriers you most commonly use, in one place, for you and your team. These are carriers approved by you.
All the forms you'll need are waiting for you and your company name and information will be automatically added. You also have the option of adding your logo for that professional touch.
Have a regular load you handle? Use our Re-Send Load feature to duplicate the job, saving you a lot of time.
For those expert brokers and agents who work at the next level. Saves time!
Total Agent Management System (TAM)
Gives you complete control of your team. Set up notifications to alert you when an agent has completed something, manage commissions, see what they are doing and help them along the way, give and remove access to certain features, make them a Super-Agent with access to your Broker features, and more!
Makes learning easy. Short training videos on just about everything makes training yourself and training your new team members a breeze.
24/7 Armed Server Security
Physically housed in a 24/7, guarded, highly secure server environment, the server(s) are further protected with generator backup to keep you up and running.
24/7 Online Server Security
Encryption and nightly backups help ensure your data is safe.
So why wait? Get started today!
The Freight Broker Blog
by LoadPilot®
Learn how to stand out in the marketplace, invaluable tips and other freight brokerage industry secrets.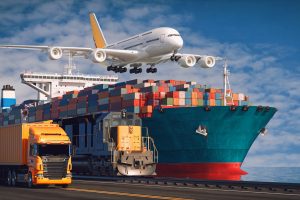 Shipment class is an invaluable logistics tool that helps carriers determine exactly how to transport goods safely and cost-effectively. It takes into consideration factors such as product fragility, weight, and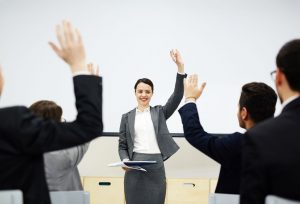 The freight brokerage industry is booming… And by 2026, the freight brokering market is expected to reach a staggering $2.7 trillion. So, if you're planning to break into this lucrative industry,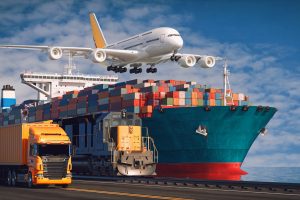 Load boards are online tools that help freight brokers and truckers find loads to transport. They're a great way to fill up your empty trucks and make some extra money